Bay City's Best Food Menu Items
A lot of the pride we take in working at Bay City comes from crafting some of the finest cocktails and beers in San Diego (if not the whole country). And we're always innovating our kitchen options by offering our guests new menu items that they can enjoy served up with a rooftop view of the East Village skyline. (Our Point Loma taproom does not sell food, but local food trucks are often on site over the weekends or on busy nights.)
We could rave about each of our featured menu items, but for now we'll limit our list to five of our most popular choices:
Pizza
Fish Tacos
Wings
Bavarian Pretzel
Kale Salad
Read on for our take on why we love each of these options — and why you should stop in to try them yourself.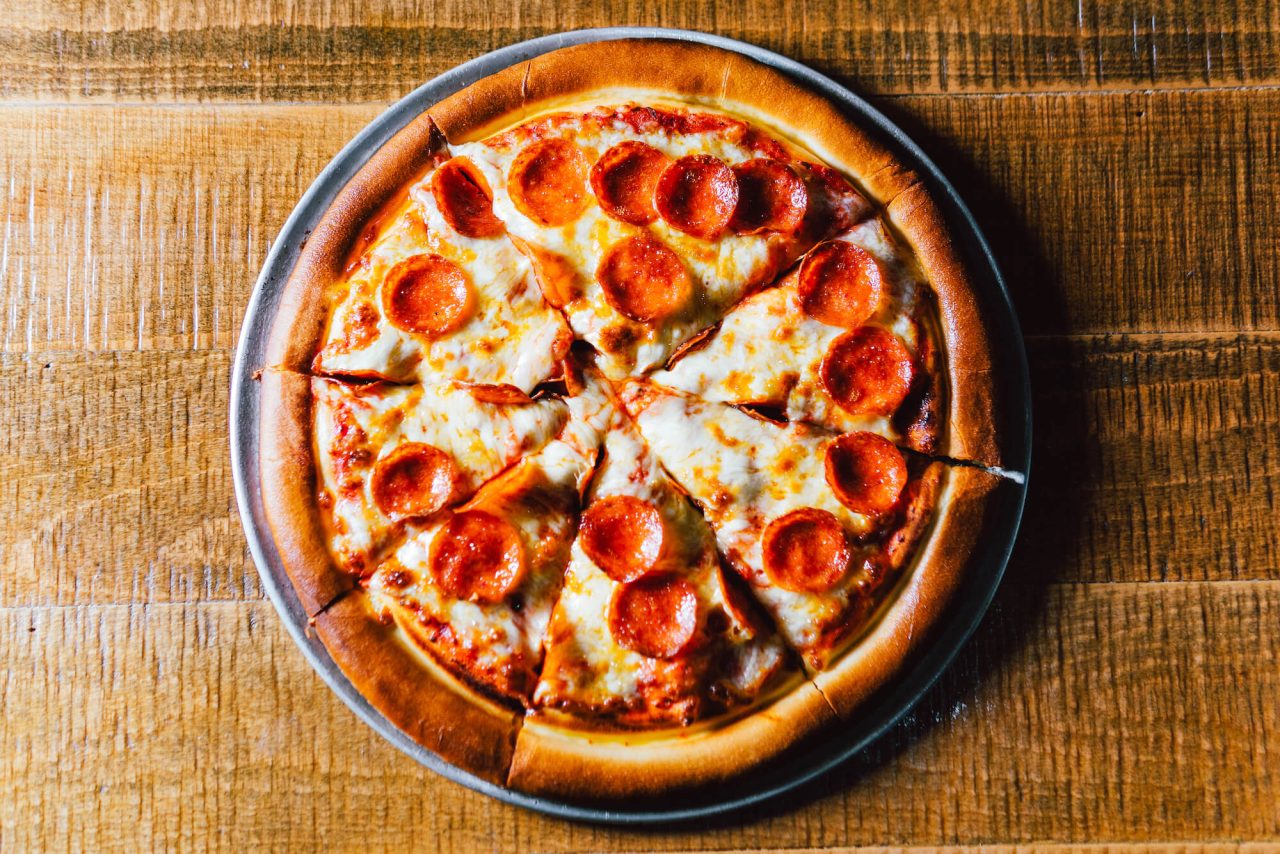 Pizza
What's not to love? Pizza pairs well with practically all our beers, so we make no less than seven different varieties. For now, though, we'll focus on two of our favorites in particular — the Mama Mia's Margherita Pizza and the Meat Lovers Pizza.
Ingredients
The Mama Mia's and the Meat Lovers both come with our house-made marinara sauce, but the similarities end there. The margherita pizza is dressed with fresh buffalo mozz and olive oil topped with basil, while the Meat Lovers is a delectable heap of pepperoni, sausage, bacon, salami, and Canadian bacon. Dig in.
Reviews
Our pizza often gets reviews like this: "The pizza is incredible, everything about the pizza is worth coming to this spot weekly! We will definitely be coming back!" Come to our East Village spot and grab a slice for yourself.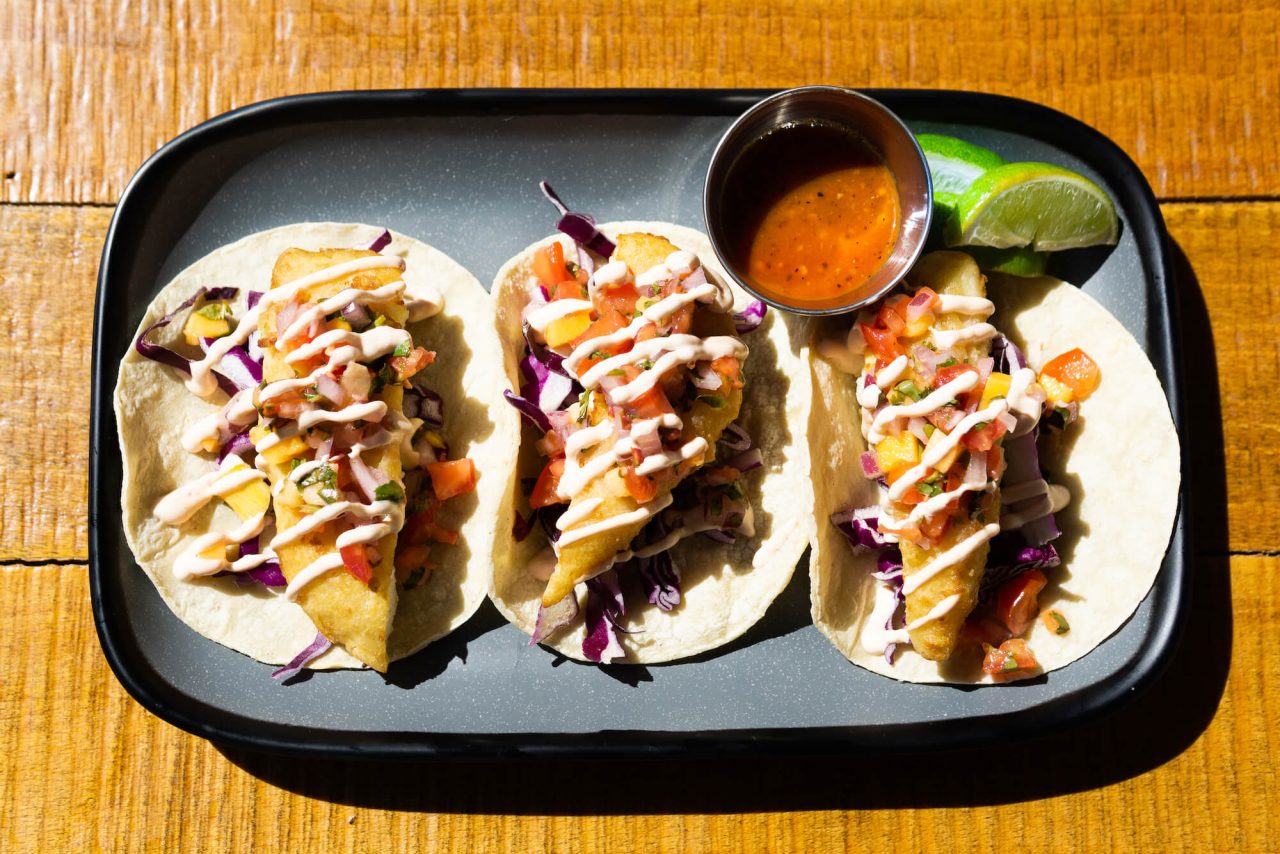 Fish Tacos
What would a brewhouse in San Diego be without a respectable fish taco? Even in a city that sports a smorgasbord of restaurants that serve up one fine fish taco, ours stands up to the competition. Here's why.
Ingredients
Combine beer-battered cod, chipotle crema, red cabbage, house-made mango pico de gallo, an avocado slice, and a generous side of habanero salsa, and what do you get? The Bay City Tacos, which come three to an order and pair beautifully with our Peninsula Lager or Fiesta Island.
Reviews
Our fish tacos are the straw that stirs the drink. A fan favorite, for sure, especially when it's perfect beer-drinking weather — a sun-shot day with a breeze off the ocean. (In other words, nearly year-round on our East Village rooftop.)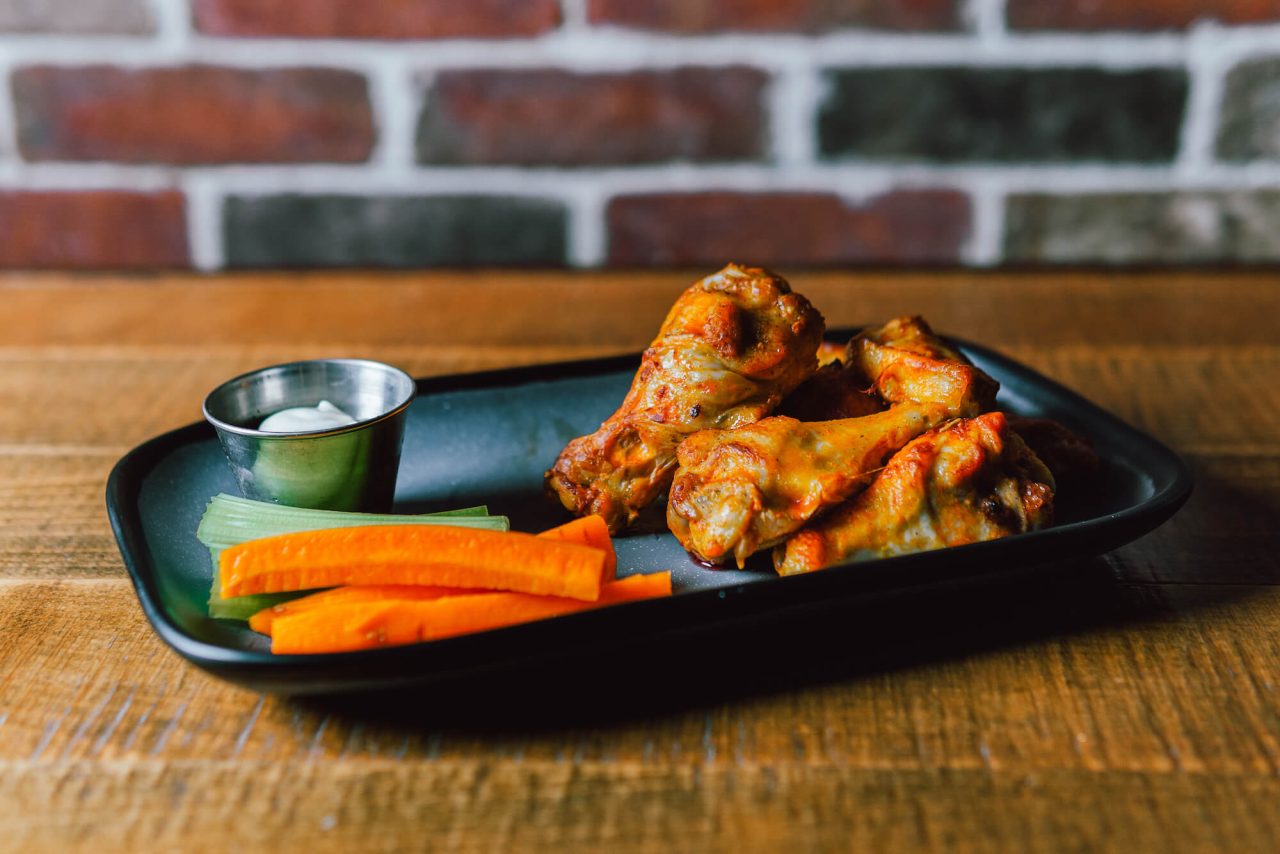 Wings
A timeless bar staple, wings are a worthy snack while you're sipping on nearly any of our brews. Let's take you in the kitchen and show you how we make them.
Ingredients
You can get your jumbo wings baked one of three ways: BBQ, buffalo, or doused in our sweet and spicy kickin' sauce. We season them, bake them, and then finish them off in the oven to ensure that they're crispy on the outside while the meat remains tender. Served with celery sticks and ranch.
Reviews
We're highlighting the wings because they, too, are another favorite. People are always ordering the wings. Order the wings. You won't be disappointed.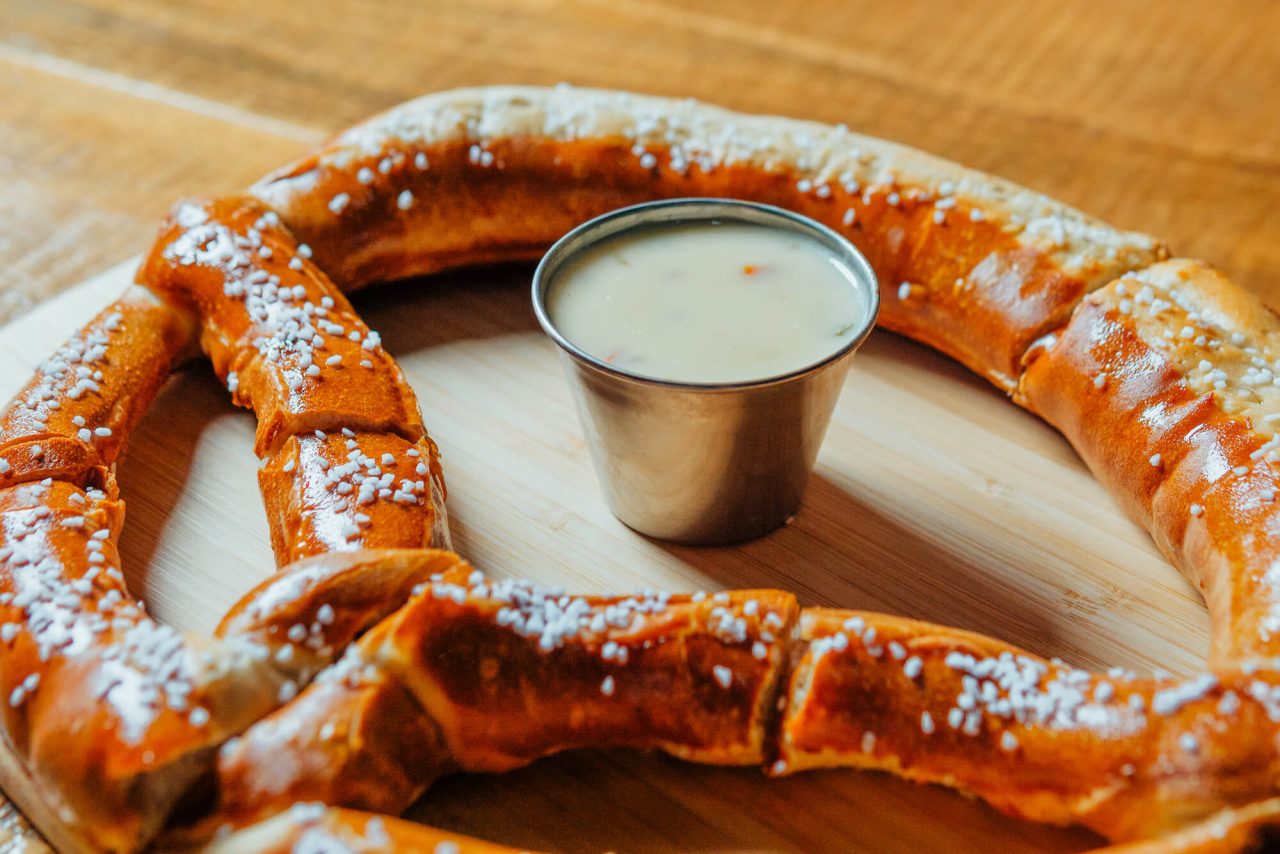 Bavarian Pretzel
Can't go wrong here. Tear a wedge off our Bavarian pretzel and enjoy a certain subdued warmth — the heat of the bread, the tang of the salt, the heat of the cheese that comes with it.
Ingredients
To talk about the pretzel, we need to talk about the Bay City IPA, which is made with new-school hops that ends on a deceptively smooth finish. That's a good beer — and we use that beer in the beer cheese that comes with the Bavarian pretzel.
Reviews
The pretzel is one of the best of all the Bay City foods. The reviews tend to go something like this: "The staff was sooo friendly and attentive! The beers were really good and the beer pretzel was a must buy." Enough said.
Feeling like jumping a flight to Oktoberfest? Get the next best thing — the Fiesta Island pilsner, or the old-world malt and hop varietal of the Peninsula Lager.
Kale Salad
Lest you think we're all about beef and beer and bread, we proudly offer the kale salad, as well. Aptly titled "The Killer Kale Salad," this Bay City specialty comes equipped with some ample zing and zest that sets it apart from the bland rawness that the word "kale" conjures up for some people. The Killer Kale slays expectations.
Ingredients
You're in for a mix of kale, goat cheese, candied walnuts, Granny Smith apples, and dried cranberries doused in a honey mustard poppy seed dressing. Light, bright, and summery, this salad can get even heartier with a $5 upcharge that buys you sliced chicken that you can work into the green goodness on your plate. Oh, kale yes!
Reviews
"Pizzas and the kale salad are bomb." Thank you, Mike R., another satisfied Bay City customer, who keeps it pithy while underscoring what we like so much about our menu: You can get the Meat Lovers Pizza or the kale salad and walk away from both thinking you just had a phenomenal meal.
Visit Bay City Brewing in East Village and Point Loma
Pizza, tacos, wings, pretzels, kale salad — this variety of bar food gives our guests the option of choosing between the shared favorites of a traditional tasting room menu or the lighter fare that people can nosh on with their beer.
Served in our East Village location, our menu caters to the downtown crowd, but it's also perfect for the vibe at Petco Park, for fans stopping in to watch the game, or for anyone hosting an event. Now that you know a smattering of our menu highlights, let's go over the spots at Bay City where you and your guests can get together:
East Village: Tasting Room
Off the street on Eighth Avenue, the Tasting Room has a modern, industrial atmosphere that also feels oaken and cozy. Equipped with Wi-Fi, indoor-outdoor seating, flat screen TVs, and a sofa lounge, it sports a 50-guest capacity across 1,500 square feet.
East Village: Rooftop
From the Tasting Room, take the elevator up to our rooftop bar. Up to 175 guests can stroll around 3,800 square feet or lounge around fire pits while taking in the panoramic views of the East Village business towers.
Point Loma: Tasting Room
A sprawling, 6,300-square-feet event space, the Tasting Room in Bay City Point Loma can accommodate up to 100 guests. The open-concept setup, and its palm-fringed view of the bay beyond, makes it the perfect location for a large gathering.
Point Loma: The Patio
Right outside the Tasting Room, the Point Loma Patio is just that — an outdoors space, festooned with lights, with heaters, seating aplenty, and cornhole boards and bags. That it's dog-friendly should go without saying. (2,000 square feet, 80–100 guests.)
Point Loma: Suite C
Think dart boards. Think pinball machines. Think casks used for tables and set up on pallets along the back wall. Welcome to Suite C, an unfussy, un-suite private room with a bar, mic, and speakers. You're looking at 2,100 square feet with a 60–80 guest capacity.
Try some of the foods we recommended, pair them with your favorite brew, and keep us in mind when you book your next event. Graduations, family reunions, company meetings, bad sweater parties — whatever you're planning, we can help make it seamless. Not to mention delicious.